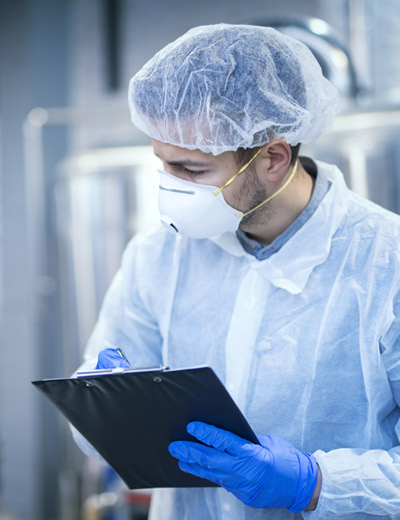 Clean-in-place (CIP) systems are cleaning solutions for processing facilities like the food & beverage industries. Nebula ozone technology utilizes dissolved ozone injected into water, with Zero Chemicals to create effective cleaning solutions into a single piece of equipment.
By avoiding chemical cleaning solutions and only using water and ozone you are providing a safer world in the food industry. Ozone is a perfect gas, to clean and disinfect as it kills all bacterial growth or pathogens on contact. Your water from your local municipality is pumped or circulated by the CIP System through our Nebula equipment as ozone gas is injected into the waterline without any chemical usage.
The job of any CIP System is to provide safe, effective cleaning cycles without having to manage unrealistic sanitization procedures without the use of cleaning chemicals. They are often employed in food processing facilities to remove contaminants from food contact surfaces, such as tables, equipment, and other machinery. Many industries rely on a CIP cleaning process to maintain sanitary and quality standards in day-to-day operations.
Designed for proper cleaning to kill all bacteria, and avoid cross - contamination. Our Ozone CIP systems are built for durability and longevity. At Nebula Ozone, we provide high-quality clean-in-place systems suitable for industrial use, including dairy, food and beverage, medical, brewery & wineries, and pharmaceutical manufacturing. We've put together the following article to outline some of the design principles and integration for effective CIP systems.
Design Considerations for CIP Systems
When thinking about installing a CIP system, there are several design factors to keep in mind to ensure the engineered system fully performs the job you need it to. Some of the key design considerations to include are:
Capacity. The CIP system must be adequately sized to provide the proper flow rate and PSI needed to wash all equipment with an ozone solution and sterilize effectively.
Utilities. The processing facility is powered by the proper utilities like water and electricity and is equipped with a sewage and storm drainage system that can accommodate the CIP system.
Space requirements. There are rules on how much space is needed for portable and stationary CIP systems depending on the local building codes and maintenance practices.
Drainage. Proper drainage is critical to cleaning and your production process. You can't clean without it. Drain utilities must be able to handle larger rinse water volume drainage.
Processing time.One of the most important aspects of a CIP system is how much time it takes to complete your facility's cleaning protocol. Usually, this is determined by the size of the CIP ozone equipment and the flow rate to meet the daily demand.
Equipment surface characteristics. Most food processing equipment is made from stainless steel and we are no different with our ozone cleaning and sanitation systems for our CIP units.
Integration Considerations for CIP Systems
In addition to proper design and construction, proper integration is important to achieving optimal cleaning performance from a CIP system. While a CIP system may be custom designed and built to meet a facility's needs, if it is not integrated correctly, it may not perform as intended. Therefore, it is necessary to consider how the CIP system will be integrated from the beginning of the planning process. Remember we build Ozone solutions that are completely safe for food production, without any chemical solutions used for cleaning.
Some of the factors to keep in mind include:
Piping. While threaded or flanged connections might be more efficient at preventing the accumulation of contaminants, welded connections would better protect a system from contaminants while providing a more dependable product. Additionally, return lines should have as much slope as possible to encourage gravity draining and discourage the formation of air pockets, which can prevent cleaning fluids from reaching all surfaces.
Filters. Filters in CIP systems are often hard to drain. As such, they require regular removal for cleaning or replacement operations before sterilization.
Accumulation. Every part of the system should follow free draining dynamics to avoid any pooling of water or the "bathtub ring" effect.
Contact the CIP System Experts at Nebula Ozone today
Clean-in-place systems are essential pieces of equipment in many processing facilities. If you need a CIP system for your company, turn to the experts at Nebula Ozone. We offer complete equipment solutions including design, manufacturing, filters, installation, and technical support—to ensure you get the CIP system you need for your sanitary process and cleaning procedures.
If you are looking for a custom quote for your new CIP ozone generator, and clean in place system contact us TODAY.